Priska C. Juschka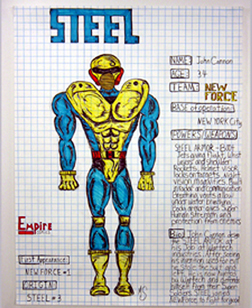 Do you remember your childhood drawings? If you're a boy, they were probably small stick men enacting unspeakable scenes of violence. If you're a girl, horses and princesses, I suppose. If you don't remember, a visit to Michael Scoggins's exhibition of works on paper at Priska C. Juschka should help you recall and focus on the forces that shape the adults we become.
Scoggins monumentally enlarges the childhood drawings, homework assignments, and journal entries his mother saved during his school days. To do so, he meticulously recreates giant sheets of notebook and graph paper complete with binder holes and ragged edges. Onto these rather austere surfaces, with an easy hand, he copies his childhood hand.
There is a nostalgic heroism to Scoggins's art, most apparent in his "trading cards," images of invented superheroes with names like Power, Captain X, and Steel. The latter stands bold in blue tights and yellow helmet, and beside him is a brief biography and description of his powers. Distrustful of the company that helped fabricate it, he stole the suit from which his powers grow in order to fight for the good. The purity of such intention, the invention of a child seen through the eyes of his adult self, takes on an air of tragic impossibility. The child, who must have envisioned himself as Steel, became the artist instead, meditating on the forces that made him what he is.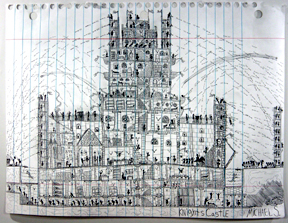 Scoggins is quite deliberate in confronting acculturation. His "Notes on Civil War" and "Report on Thomas Jefferson" (which earned him only a C-) reveal the child Scoggins ingesting the spoon fed American history of the sort most American students receive in grade school. More evocative however are the childhood war drawings. Scoggins grew up in Virginia, not far from an army base. His schematic depictions of tanks and space stations are particularly elaborate. The artist chose to enlarge a number of these, including the murderous "USA Mega Tank," the elegant "USA Space Station," and a "USA Aircraft Carrier," which includes a soon-to-be-destroyed Russian submarine, a fragment from the Cold War world in which Scoggins came of age. A less topical image of war is Scoggins's "Knights Castle." It includes an exchange of arrows between the besiegers and the besieged, the mathematical precision of which is a stunning tribute to the inventiveness of children. The artist makes no alteration other than scale to the drawings he copies.
All of the drawings in the show were executed in 2004 and a quiet indictment of the contemporary political climate floats through them. Enlarged scenes of warriors and war, heroic though they be, are reminders of early influences that shape the violent world in which we live. In reminding us of the presence of these influences as influences, Scoggins encourages us to believe that they can be altered, perhaps alleviated.