Film
Docs In Sight
Filial Documentaries
At a film market a few years ago, I once heard a prominent documentary sales agent say to a crowd of eager filmmakers that "nobody cares about films about your family. Please don't make them. Don't send them to us. Spare us." It was his way of saying, probably justifiably, that given the easy access that most documentarians have to their families, it's often the case that the films born from that relationship can be uninteresting or at least not commercially viable. Certainly, many filmmakers have taken a stab at this venture. But the key to success seems to be not only having an interesting character that loves the camera but in honestly presenting the often-provocative nature of the parent-child relationship so as not to produce what seems like a straight hagiography of ma or pa. Given the judgment easily exercised around such an endeavor, not least by parents and their friends, this is not a simple task.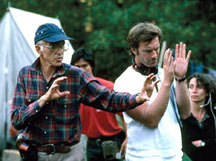 But Tell Them Who You Are (opening May 20 at Lincoln Plaza), a film by Mark Wexler, the son of legendary cinematographer Haskell Wexler (who directed the political cult film Medium Cool), pulls this off. And it's not only because pa Wexler is at once cool, truculent, lovable, and at times painfully strident but because son Mark is honest about his mixed feelings toward his father and is willing to prod him in a way fortified by hard-edged love. There is effective transparency in the filmmaking process (after all, it is a film about a filmmaker) that is most powerful when both pa and son have cameras shooting each other or when there is inevitable cinematographic direction from the wizened master to his neophyte son. Unlike My Architect, the acclaimed but simple documentary in which an unacknowledged son strives to know his long-dead father through memories, anecdotes, and, most of all, his buildings, Tell Them Who You Are feels like real-time interaction between a somewhat estranged but loving father and son who keep you guessing as to when any resolution will come.
Abel Raises Cain, a film about legendary hoaxster Alan Abel made by his daughter Jenny, premiered at the Brooklyn Underground Film Festival in April and is yet another example of the child-to-parent documentary. While Abel Raises Cain is effective as a portrait of a very interesting, eccentric, and satirical genius, there's no real sense of why it matters that the daughter made it, inasmuch as she didn't have to go through the hassle of getting to know the subject. That counts for something of course, but as we learned in Narrative 101, conflict and resolution are effective no matter what the subject.
While sales agents are notorious for their subjective whims, I think it's fair to say that in these self-reflexive times more filmmakers are taking on the challenge of addressing some of the most fundamental relationships all of us have in our lives. Hopefully, more personal films like Tell Them Who You Are will be made that honestly confront these universalities. It's not an easy task, but when it works it allows for a social catharsis that can't really be delivered by the analysis of impersonal political films. We are all born of the loins of others, and it's not a good relationship to leave unresolved, no matter what medium you use to do it.
Writer of O (opens May 4 at Film Forum)
The Story of O, a hugely controversial erotic book of sexual slavery and S&M, was published in Paris in 1954 and became a literary scandal and best seller. Most thought it was surely written by a man, and a perverted one at that. Pola Rappaport's film tells the real story of the genesis of The Story of O and how it was certainly written by a woman. The author, Dominique Aury (who was a part of prestigious Paris literary society), indignantly responds to people like Albert Camus, who said that a woman couldn't have written such a book, by stating that "women are as immoral as men…and perhaps even more so." An important contribution to the history of censorship and sex (with the benefits of some sexy re-creations), the film features star NYC resident Barney Rosset, who was at the vanguard of publishing controversial texts in 1950s America. Writer of O is even more apropos in these days of increasing numbers of fundamentalists (who would surely go apoplectic over it), though I'm not sure that many feminists (at least non-French ones) would dig it, either.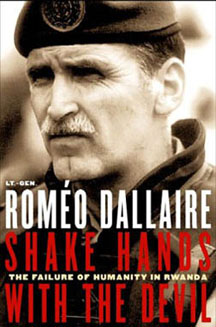 Shake Hands With the Devil
(opens May 18 at Film Forum)
Maybe you saw Hotel Rwanda and HBO's Sometimes in April. While those were wrenching fictional accounts of true events, Shake Hands With the Devil is the story of Canadian general Roméo Dallaire, who headed the U.N. peacekeeping mission in Rwanda that was ordered not to use force as the mass slaughter ensued. While struggling with profound memories of frustration and helplessness, Dallaire is a significant spokesman for the dissonance between U.N., U.S. and Belgium bureaucrats who ignored pleas for reinforcement and the personal devastation from witnessing one of the worst genocides of the 20th century.