Film
Docs In Sight
The End of PBS?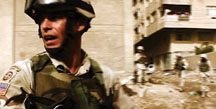 Over a decade ago, Jesse Helms began the earnest evisceration of public television and radio by the right wing, beginning what has become a drawn-out, hackneyed story. Now that the Corporation for Public Broadcasting is stacked with Bush appointees and Congress is filled to the brim with Representatives eager to show their conservative mettle, the hegemony is renewing focus on public media. But given the little that is left of PBS after so many years of congressional attack, these attacks seem almost tawdry, as if they are picking the easy one to check off the task list en route to near theocratic rule. The truth is that a pittance of tax money actually goes to independent public media compared to the past and to other countries, and over the last decades increased corporate underwriting has now transformed into full blown commercials on "commercial free" television. Yet the renewed cultural war still generates campaigns against high-quality, topical programming like Bill Moyers's Now _and sends chilling effects through the rest of public media.
This threatens bodies like the Independent Television Service (ITVS), which is responsible for many of the documentary films on POV, Wide Angle and Independent Lens (a series that shouldn't be struggling). In fact, ITVS was born from a decade-long struggle by independent filmmakers years ago to insure a diversity of public TV and has become a very important—if not somewhat lone—source for critical filmmaking funds. And rather than fortifying independent filmmaking and increasing venues, the Corporation for Public Broadcasting (the parent of the public system) after 9/11 announced a $20 million film funding initiative called "America at the Crossroads" to create greater understanding about the war against terrorism and other post-9/11 issues. While the independent filmmaking community was excited about this prospect, the first meeting attended by hundreds of filmmakers turned confrontational when the five white men presiding all but made it clear that perceived "leftist" critiques and investigations were not in the purview of this rare funding initiative.
This seems indicative of a longer-term strategy by some in the administration to rid public media of the perceived "liberal bias" in news and documentary (recently, it was reported that CPB board members were suggesting that grants go to music on National Public Radio rather than news because they thought NPR was too soft on Arabs in its Middle East coverage). The new head of the CPB, Kenneth Y. Tomlinson, not only ordered monitoring of Bill Moyers's Now but retains a White House official to create new guidelines, effectively violating a law that is supposed to insulate public broadcasting from government meddling. It's no coincidence that Tomlinson is also the head of the Broadcasting Board of Governors, the body responsible for the US government's overseas broadcasts like Voice of America (where, surely, there is no "conservative bias"). The British Broadcasting Corporation has had to deal with similar government meddling in the past. But the BBC was never anemic, being an important part of culture for most Brits. Unfortunately, PBS is weak. If people don't vociferously stand up for public media in the U.S. (as Bill Moyers did quite eloquently at the recent National Conference for Media Reform) then we will end up with nothing less than washed out commercial-like news and documentary run by those who have taken power and believe they can impose their own voice on America. That's not only sad, it's scary.
Human Rights Watch International Film Festival.
June 9 through 23 at the Walter Reade Theater.
Check www.hrw.org/iff for more information.
One of the city's best festivals comes on strong with the important political docs this year by opening with State of Fear and continuing with Garrett Scott and Ian Olds's Occupation: Dreamland, a rare and wrenching film with the troops in Iraq. Other parts of the program include the New York premiere of The Education of Shelby Knox, which confronts the "abstinence only" programs in high schools through the eyes of a young Christian woman who comes to challenge it, and Mardi Gras: Made in China, a great film about globalization and the origin of those plastic Mardi Gras beads, which premiered at the Brooklyn Underground Film Festival in April.
Ed.'s note: Also see Williams Cole's interview with director Pam Yates in the Express section of this issue.
POV (check www.pbs.org/pov)
The season begins on June 21 at 10 P.M. with The Education of Shelby Knox and continues each Tuesday over the summer with films like Street Fight, about Cory Booker's turbulent campaign for mayor of Newark, New Jersey; The Brooklyn Connection, about a Brooklyn businessman who easily (and legally) sent millions of dollars worth of weapons bought in the U.S. to Kosovo during the war; and, later in the summer, Jessica Yu's In The Realms of the Unreal. You might want to write the Corporation for Public Broadcasting after you see some of these and tell them how happy you are to see how your tax money is spent.