We Could Have Invited Everyone
Andrew Kreps Gallery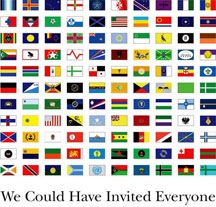 French theorist Ernest Renan wrote that "a nation is a soul, a spiritual principle," but what if that nation is fake or, at least, is not real to everyone? We Could Have Invited Everyone attempts to answer this question by featuring over twenty artists' micro-nations, model nations, and "concept nation states." The exhibition is composed of artifacts from the artists' fictionalized countries: flags, coins, passports, models, stamps, diaries, and "official forms." In effect, all the tools of a good hoax.
In his article "New Foundlands" for Cabinet Magazine, which cosponsored the show as part of its "Fictional States" issue, George Pendle wrote that "while uncertain territories like the Realm of Redonda might not be locatable in your atlas, they do claim a very genuine existence in reality, maintaining geographical boundaries, flaunting governmental structures, and displaying the ultimate necessity for any new nation: flags. Such idiosyncratic nation-building can trace its roots back to the early nineteenth century, when even the mightiest empire had yet to consolidate its grip on the more far-flung regions of the world." But with America's total grip on the world (made possible by seamless information flows and raw economic power), what role can micro-nations, model countries, and ephemeral states have? Pendle speculates that "while these new nations rarely dare to enforce their claims to nationhood, it seems to be their unspoken hope that they will, one day, break out into the real world." We Could Have Invited Everyone might be these micronations best chance to break into reality.
One of the show's strengths is that many of the projects presented existed for other purposes first. That is, many of the projects were completed by non-artists for non-art reasons. Thus, some of the pieces had an "outsider" feeling as a result of their obsessiveness and lack of obvious interest in traditional aesthetic concerns. The descriptions accompanying each piece, written by the show's curators, Robert Blackson and Peter Coffin, truly brought the show together. Their account of New Island is a good example of their prose style: "The Commonwealth of New Island is a 12,000 square mile territory declared independent in 1992. New Island is situated off the west coast of Australia and according to its founder Lee Mothes, 'is an interactive work of art that invites anyone to re-create their own piece of the island: build a house, start a business or even begin a new civilization.'" Such over-the-top expositions serve the role of tying the disparate pieces together. In effect, they enable the hoax to be meaningful.
One particularly clever piece, Peter Simensky's "Neutral Capital," is a piece of currency "using the banknote designs from the money of failing world economies." His colorful bills feature portraits of leaders, artists, and other heroes whose faces would naturally grace the bills of many developing countries. Another witty piece is an eleven-hour clock, presumably constructed by the "consultants" listed, Becket Bowes and David Adamo. The accompanying note reads in part: "In Defense of a Landless, Anti-patriotic State and Notes on the Base-11 Clock. The nationality of a foreign culture institute is limited in the conventional sense of the idea. Landless and unpatriated, its national identity is functional, not existential…" This semi-philosophical defense extends to the point of absurdity. Part of what is intriguing about the show is that viewers cannot be sure how seriously to take the show and thus, how seriously to take themselves.
On the other hand, there are a number of pieces whose meaning is unambiguous. One such piece is Yoko Ono's interactive work consisting of a map covering a table. Participants can stamp "Imagine Peace" directly onto the map and are also encouraged to take an "Imagine Peace" button from a wastebasket below the table.
The question implicit throughout the show is: How can we live in a world dominated by one nation? The current situation obviously limits us in untold ways. We Could Have Invited Everyone emphasizes the aesthetic possibilities of a world full of micronations. There is so much that could be done, not just in terms of policy, but aesthetically as well. Think of how many different types of flags there could be? Think of how many types of currency are possible. We Could Have Invited Everyone demonstrates a slender portion of this vast potential.Let's face it: there is no DIY spirit in nation-building, at least not anymore. At one point, like when America was founded, forming a country was experimental and edgy. But it's not anymore. We Could Have Invited Everyone displays the spirit of inventive nation-building. It shows viewers what could be fun and cool about developing and running a country. And indeed, one of the strongest messages of the show is that anyone can start a country in her bedroom or office right now.
—Francis Raven