Bloodlust at Red Bull: The Revenger's Tragedy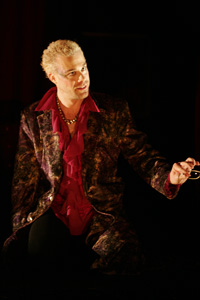 For director Jesse Berger, four hundred years go by awfully quickly. Berger sees the turn of the century bringing troubled times: a corrupt government that purports to be infallible; rulers who surround themselves with sycophantic yes-men; high level positions filled according to loyalty and personal favors, while the populace resign themselves to cynicism in the face of an increasingly violent world. For an artist whose latest project is a play published in 1607, Berger spends a lot of time musing on contemporary headlines.
The Revenger's Tragedy, running through December 18th at NoHo's The Culture Project, traffics in all of the social ills catalogued above, and many more. Tragedy is the sophomore effort of Berger's Red Bull Theater, a company devoted exclusively to Jacobean plays—that is, heightened language plays written under the reign of England's James I. Founded in 2002 by Berger, a former Directing Fellow at Shakespeare's Globe, Red Bull won critical kudos for its inaugural crowd-pleasing production of Shakespeare's Pericles in 2003. That play, selected in the wake of 9/11, was a tribute to "the healing power of storytelling." Tragedy, a repudiation of Pericles' fairy tale optimism, seems to argue that it's more fun to rub salt in the wounds.
Both a thriller and a black comedy, Tragedy is an acerbic cocktail of courtly intrigue, backstabbing politicos, misogyny, seduction and murder among the Italian aristocracy. Silver-tongued Vindice (Matthew Rauch), obsessed with avenging the murder of his fiancé, makes some friends in high places, and ingratiates himself at the court of the lecherous Duke. With pathological determination, he methodically orchestrates the downfall of the ruling family. Tragedy belongs to a genre popular in the 1600s: an anti-hero avenges a loved one, rises up against authority, triggers bloody mayhem, and leaves a hefty body count in his wake. If it's not clear who we should be rooting for in all this, the original audience didn't necessarily know, either: these "revenge tragedies" tested the limits of vengeance as a salve for injustice and tyranny.
Tragedy reflects the anxieties of its age, when the British middle class began questioning the "divine mandate" of authority to rule, and playwrights depicted the highest echelons of government as rife with self-interest and incompetence, at their own personal risk. Small wonder that Tragedy was published anonymously. Smaller wonder why Berger felt Tragedy would strike a chord among the politically jaded in a city where FEMA uniforms were a popular Halloween costume. Berger admits that the play was originally chosen with Osama Bid Laden in mind, over two years ago. "I was wondering, what are we really going to gain by getting this guy's head on a pole?" Even though that iconic figure has slipped off the headlines, "the relevancies have shifted over time to fit the dynamic of what's happening politically now."
Instead of easy answers, Tragedy provides catharsis and entertainment, featuring an assortment of half-baked, narcissistic aristocrats, whose bloated up sense of entitlement tips us off early on that come-uppance –and gallons of stage blood – won't be too far around the corner. With names like Supervacuo and Ambitioso, one need not be a Latin scholar to figure out that we're not going to be dealing with well-balanced personalities here. Red Bull's production also doesn't shy away from the play's gender wars. Men accuse destitute women of abandoning their morals for a bit of cash; however, men with more than enough material comforts risk all forms of bodily harm to get some action: one character dies from making out with a poisoned skull, in a scene that illustrates why using protection during intimate encounters was probably not such a bad idea back then, either.
In general, however, Tragedy cannot be easily collapsed into a public service announcement. It is entirely absent of the moralizing that would otherwise rob the story of its uncomfortable ambiguities, and –more importantly – its gleeful maliciousness. Vindice immures himself with a feverish bloodlust that borders on sexual excitement. This may not be a coincidence: Audience members can trace back the links in the play's cyclical daisy chain of sex and death (e.g. rape, vow of revenge, illicit affair, gruesome end…ad nauseam). Red Bull, piggy-backing on the uneasy contradictions of the narrative, aims to provoke while simultaneously offering what Berger calls "a roller coaster ride."
In contrast to the elegant simplicity of Pericles, Berger went for what he terms "Off-Off Opera" in the production values, to capture the decadence of the setting. Emily deCola's masks add a suitable otherworldliness to the show's opening pantomime. Looking for a downtown answer to "Fellini, Versace and Jean Paul Gaultier," Berger and costume designer Clint Ramos seem to have settled upon a Renaissance costume ball-meets-Eurotrash look – bare skin, fake fur, gold chains, and the occasional neck ruffle – that would make the bohemians in Rent look a Gap ad by comparison.
This over-the-top aesthetic, combined with ominous percussion and thunderous chords, occasionally threatens to render the production heavy handed, but then again, Tragedy, with its stylized violence, doesn't exactly lend itself to a light touch. (Red Bull has chosen to ante-up the bloodshed to a level on par with Shakespeare's gore-fest Titus Andronicus.) As with any roller coaster, it helps to loosen up the passengers with macabre wit before plunging them into the ice water bath of nihilism. Red Bull performs this balancing act particularly well in the second act, when the delightfully unctuous Rauch and Mark Vietor, as the Duke's son, a vein bundle of neuroses, see-saw between breezy repartee and melodramatic excess, assisted by an excellent supporting cast as their doomed siblings.
While Tragedy is intended to resonate with contemporary political issues, Red Bull's broader purpose is the cultivation of an appetite for a brand of storytelling Berger sees as being endangered. At a time when theatrical entertainment faces such unbalanced competition from the Hollywood machine, he says, "we have so many artists who are writing for television, and that seeps into our theatrical writing." In contrast, for Red Bull, Berger wants to off an alternative to dramatic realism. "The places that I'm interested in are those that stretch the theatrical landscape towards a classical theatre for the twenty-first Century."
To that end, Berger created a reading series, "Revelation Readings," introducing audiences not only to rarely performed gems like Christopher Marlowe's Dido, but also new work from playwrights tackling heightened language or classical themes, such as Anne Washburn's Orestes and April De Angelis' Playhouse Creatures. The recently initiated "In the Raw" workshop series is a strategic choice, another way to nurture "writers that are not just writing about what happens in the living room." Berger, driven by his own passion for the works of John Marston, Christopher Marlowe, and Thomas Middleton, began the reading series not knowing whether New York had a built-in audience for verse theater, with its florid dialogue and stylized melodrama, not to mention the usual suspension of disbelief required when characters don't recognize their own kin in silly disguises.
Fortunately, the readings grew from an initial "audience of two." In November, a sold-out reading of The Maid's Tragedy required herding audience members to The Culture Project's upstairs theater, as the basement space couldn't accommodate all those who wanted to attend. Red Bull has discovered they can rely on buzz to fill seats, providing a novel— and inexpensive— means for theatergoers to see such luminaries as James Urbaniak, Dana Ivey and Kate Burton (Pricier "benefit readings" have featured Mary Stuart Masterson, Anthony Rapp and Paul Rudd). How to explain the acquisition of such a star-studded roster? Berger's militant chutzpah in seeking out talent has played no small role (Actress Dana Ivey, who began coming to the readings as a curious audience member, was subsequently enlisted as a participant). The rare opportunity for actors to tackle heightened language outside of the Shakespeare canon is another. "These kinds of plays aren't produced often, so when you get the chance to work on them, you jump at it," remarks actor Michael Stuhlbarg. "They challenge every part of your skills— balancing melodrama and humanity, theatricality with pathos."
The appeal of engaging thorny, centuries-old dialogue does not prevent Berger, also an adjunct professor of theater at Bard College, from adapting these texts as needed. Indeed, his zeal for making verse come alive for modern ears has informed Red Bull's practice of altering dialogue and making substitutions. "I am not a purist about these works," he exclaims, citing the fact that most Renaissance plays had multiple authors. An early scene in Revenger's Tragedy alone features snippets taken from Marston, Francis Bacon, and Thomas Kyd, in order to ensure the content will resonate with his audiences.
Another Red Bull regular, actor Sam Tsoutsouvas, has his own prognosis as to whether this populist approach will grow an audience for lesser-performed works like Tragedy. "You can only do Hamlet so many times!" he exclaims. "Shakespeare did not write in a vacuum. Taking the work of his contemporaries off the shelf and onto the stage enriches the whole experience." As to what will happen to Red Bull after Tragedy, Tsoutsouvas predicts that, in no time, "Jesse will corner the market on this particular repertoire."

The Revenger's Tragedy, adapted and directed by Jesse Berger, runs November 27 – December 18 at The Culture Project @45 Bleecker (Bleecker/Lafayette). Tickets: $15, available at www.theatermania.com or 212-352-3101. Following the Sunday, 12/11 3pm performance, there will be a free discussion with Elizabethan scholar James Shapiro (author, A Year in the Life of William Shakespeare and Shakespeare and the Jews).
For more information on Red Bull Theater and their regular REVELATION READINGS series, visit them at www.redbulltheater.com
Contributor
Wendy Weisman
Weisman is a voracious writer who will yack about her opinions to anyone willing to listen/read.