Report from Germany and Austria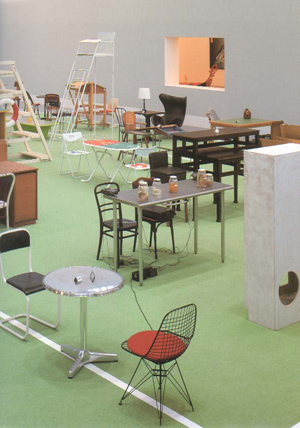 "For A Life without a Dentist" is handwritten across one of Martin Kippenberger's canvases from 1984, with the second "a" inscribed within the shape of a tooth. This nonsense sentence reveals the essence of Kippenberger's anarchic wit and radical artistic stance. A great juggler of words and thoughts, Kippengerger was a talented but also exhausting communicator inspired by Dada and Pop Art, as well as artists like Francis Picabia and Joseph Beuys, with all the defiance that implies. An impressive show at Düsseldorf's K 21, a museum for the art of the 21st century, presents an overview (organized with the Tate Modern, London) of the paintings, drawings, sculptures, posters and artist's books of this inspiring, fresh and lucid German artist, nine years after his early death in Vienna in 1997, aged 44.
Entering the hall of the classical building, one is immediately confronted by Kippenberger's large-scale installation "The Happy End of Franz Kafka's 'Amerika'" (1994), which is now considered his most important work. Not often exhibited, this moving installation is the heart of the show: more than 50 different tables with chairs, sculptures and objects on a green floor with white lines resembling a soccer field (coinciding, fortuitously enough, with the World Cup championship in Germany). It's too bad that it is no longer possible to move around in between the tables, as it was in 1994, when the work was first shown at the Museum Boymans-Van Beuningen in Rotterdam.
The title of the installation refers to a scene in Franz Kafka's fragment of a novel, Amerika (1927):
The young European immigrant Karl Rossmann tries to get a job of which he need not be ashamed…He asked for nothing better; he wanted to find some way of at least beginning a decent life, and perhaps this was his chance. Even if all the extravagant statements in the placard were a lie, even if the great Theatre of Oklahoma were an insignificant traveling circus, it wanted to engage people, and that was enough. Karl did not read the whole placard over again, but once more singled out the sentence: "Everyone is welcome."
Martin Kippenberger talked about the inspiration for this work in an interview in 1993, pretending that he never finished reading the book:
The situation is as follows: There is a circus in town, looking to employ reliable hands, helpers, doers, self-confident handlers and the like. Outside the circus tent, in my imagination, there would be tables and chairs set up for job interviews. These conversations should be seen as my application for a job interviewing the candidates for these jobs.
Even if the work is not fully comprehensible without knowing Kippenberger's intentions, it is still possible to be taken by the many stories told by its poetically enigmatic combinations of things. The objects, especially the furniture, evoke the kind of organized chaos that is also noticeable in Kafka's open-ended novel, in which there seems to be a secret plan that makes the hero fail over and over again.
In "The Happy End of Franz Kafka's 'Amerika'" Kippenberger combines many elements from earlier installations, such as four high chairs from a work in Paris. These chairs and the "Egg Carousel," a gigantic fried egg surrounded by a circular railway, were also part of an installation in Vienna ("Deep Throat"/"Tiefes Kehlchen") in 1991, as mentioned by Doris Krystof in her catalogue essay. Designer chairs are included in the installation, reflecting the artist's interest in furniture design. One upturned table has ashtrays with advertisements for cognac and other drinks glued to its surface. In a way, the installation reads like a book. You can look at it for hours, following its lines of invention and imagining the conversations during the "job interviews." A real adventure for the viewer.
As the soccer world championship overtakes Germany in the form of flags—Japanese, Italian, and of course German—and Germans discuss their flag's nationalist implications, which are understandable only through a knowledge of German history, a postcard written by Kippenberger included in the show puns on the German colors of black, red and gold with his typically dry humor: "Schwarz, Brot, Gold" ("Black, Bread, Gold").
Jenny Holzer also deals with literature in her new work at the Museum for Applied Art (Museum für Angewandte Kunst, MAK) in Vienna, where she presents her first indoor light projection "For MAK" (2006). In contrast to the crowded space of Kippenberger's Kafka-installation, the exhibition hall of the MAK was completely empty the day before President Bush's visit to Vienna, which cleared nearly everyone out of the inner city. Huge, flat leather cushions are distributed like islands on the floor of the darkened MAK hall. It is wonderful to lie down there, alone in the big space, and savor the air conditioning on a very hot day. White letters are projected across the viewer, the floor, walls and ceiling, forming sentences by the Austrian Nobel Prize winner Elfriede Jelinek. Sometimes the conflation of art with literature can become very heavy-handed, as in the work of Anselm Kiefer. In the case of Kippenberger's installation, it seems to work with or without knowing much of Kafka's novel. In Holzer's piece, quotations from Jelinek's books Women as Lovers (Die Liebhaberinnen, 1975) and Wonderful, Wonderful Times (Die Ausgesperrten, 1980), along with a discussion of artificial insemination and clichés like "Where there is a will, there is a way" come and go without pause. They move across the surface in such an ephemeral way that they make one wonder what the piece would be like without the content: an abstract but perhaps even more beautiful light installation?
Contributor
Barbara Weidle
Barbara Weidle is an art critic and curator. She lives in Berlin and Bonn.