Dance
In Conversation
Michael Trusnovec with Susan Yung
Michael Trusnovec joined the Paul Taylor Dance Company in 1998, and won a 2006 Bessie Award for his body of work with the company. In the Paul Taylor Dance Company's March 2007 season at City Center, 32-year-old Trusnovec can be seen in 13 of 18 dances, with prominent roles in Banquet of Vultures, Dante Variations, Profiles, Promethean Fire, and Lines of Loss, among others. He recently sat down to talk with Susan Yung at a loft near Taylor's SoHo studio.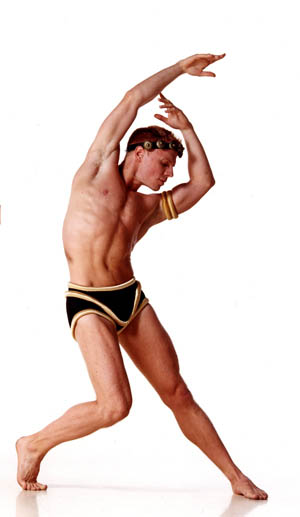 Susan Yung (Rail):How did you start dancing?
Michael Trusnovec: I started dancing when I was six. The girl across the street, a good friend, was taking class and I would follow her and watch. I was doing everything in the hallway so the teacher finally said, why don't you just come in? They were happy to have a boy in class.
*Rail: Did you admire any dancers in particular?
Trusnovec: As a kid, I loved Fred Astaire movies—I had an aunt who gave me Astaire movies every year.
Rail: I just saw a clip of Fred Astaire dancing, and it reminded me of you!
Trusnovec: That's funny! It had to have shaped me in some way—the smoothness, the quality with which he moves, his musicality and rhythm. And I was a big tap dancer when I was a kid; I was the Broadway-bound dancer. It wasn't until I was introduced to the "other world" that I didn't know anything about … I could've easily gone the other route, and I almost did, a hundred times.
Rail: What classes and/or training do you follow routinely?
Trusnovec: I take ballet pretty regularly; I didn't always. I take class at the Taylor School; I do Pilates. I'm constantly at the gym, not just to maintain, but also for my own sense of sanity. I have a lot of energy, so if I don't do something during the day, I don't sleep at night!
Rail: Of the major roles that Paul has set on you, have any of them surprised you, like Banquet of Vultures?
Trusnovec: I don't think it surprised me—it excited me that he was tapping into something he saw in other darker dances from the rep, like Last Look and Dante Variations. He played to things I love. I look at Banquet as such a huge gift; he really gave that to me. Dante Variations he made for me, but Banquet was the first time it was directed at the things I love to do; the way I like to move. But all of the movement is him. In other instances, he lets us bring our own things in, and in that one, he was very particular about shapes, timing and things.
Rail: How do you prepare mentally for intense roles like Banquet of Vultures?
Trusnovec: On a day of performance, I don't think I do anything special; it's all the work leading up to it, the mental preparation. I read a lot, and the way a character is built that I'm reading about can inform the way I work, or a character I'll build in a dance. But on a performance day, like with Banquet, I'm not one of those people that gets really dark and moody and won't talk to anybody. I joke and laugh until the second he snaps his fingers and the music comes on. It's built into the music for me with almost every dance. As soon as the music starts, I go to that place, but it's the work done beforehand that makes it easy. We're rehearsing constantly, and I spend time on the dances outside of rehearsal… a little bit, not too much. Gotta have a balance between life and work!
Rail: Is it taxing to do your role in Promethean Fire, given the big catch with Lisa [Viola]?
Trusnovec: No. Perhaps because we've done it so many times… it's very comfortable. But I really thought Patrick [Corbin] was going to kill me that day Paul started it. That dance was made on him, but on me as well, because he got sick. The first day Patrick started learning the duet, he got the flu. Paul decided to continue the dance, and had me step in for him, so the duet's actually made by both of us. You can almost tell where the split happens—where it turns and gets more angry, a little bit more partnery? That's my fault. The catch just happened that day randomly. It started small, and we just kept making it bigger and bigger. When Patrick came in the next day, I thought, please don't kill me when you see it! But I think he was really excited, because it works.
Rail: In Lines of Loss, premiering this month, Paul made you a solo that's a strong characterization built from subtle gestures.
Trusnovec: It's one of the most challenging roles he's created on me yet, just because there's not much to it. So simple and easy, and yet so difficult to stand out there so exposed. It reminds me of Aureole in that sense—really exposed. I felt like there was something personal going on for him that he was working through when he was making the dance; that affected me as well. There's something horrible and sad about it.
Rail: It seems that in performance, you give some phrases continuous motion, adding energy and visual interest. Is that conscious?
Trusnovec: I don't think so. I'm really affected by the music. I just like to move that way, it feels right. Paul will try to push me in other directions, which is great—that's what he's there for; that's what I want him to do. And often people say, it seems like it's easy for you to do that. It's not that it's easy, it's just the way I make it happen; it's the way I move—naturally, to a certain extent. But I think a lot about phrasing and timing, and listen to the music over and over again, so it really fits.
Rail: How do you, with such economy, communicate powerful emotions or a strong character? Not everyone has that…
Trusnovec: I don't know! Maybe because it's built into the movement —I just follow the dance…
Rail: When performing, you seem to remove yourself, transcending consciousness, yet rather than your expression diminishing, it's intensified. Like you're on a different plane.
Trusnovec: Again, it's about losing yourself in the work, just going there and letting it speak for itself. It happens naturally. It does feel different. I don't feel the same sitting here, walking around. I don't know what it is—adrenaline kicking in …? I love it! Maybe that's just it, that love comes out really strongly.
Rail: Do you think about your role in preserving and energizing the rich history of Paul's body of work?
Trusnovec: Definitely. It's important, as a company. We have the film/video archive—we film new dances wearing color-coded unitards and costumes with lighting, so they're easily learned. Sometimes the patterns that Paul creates are a little confusing, so you can lose the person you're supposed to follow. Granted, it's not the only source. I try to find as much old performance footage as I can when I'm reviving something or bringing a role back. And I try to respect the integrity of the work when it was created, but I want to have a little bit of me in it. Paul always approaches the work with a fresh eye—he'll change things, make it new and keep it alive. I think that's why it works and why the company's been around for so long.
Rail: Are there any other choreographers' you'd like to dance for sometime?
Trusnovec: I really like Matthew Bourne's work, the way he tells a story; he's brilliant.
Rail: You should dance the lead swan.
Trusnovec: That would be so exciting. I'm a big fan of Balanchine, though I don't know that I'd ever want to do it. Kylian…is really interesting. And Robbins. I Definitely love his stuff—the Broadway thing. And Douglas Wright, a former Taylor dancer. His work is amazing, and as a dancer and mover, he's something to behold.
Rail: What are your favorite roles/dances, and do you prefer the dramatic stuff or the more abstract dances?
Trusnovec: I love them all. That's why I like Paul's work so much—there's a little bit of everything. He doesn't cast me in all the dark work; he keeps me very well balanced. There's something that appeals to every little desire I have as performer. But I have favorites, of course—_Banquet of Vultures, Spindrift,_ and Aureole, which I'm growing to love. Last Look is my ultimate favorite. It was the first dance of his I ever saw on video. It inspired me to join the company, so to dance that role is a little magical.
Rail: Are there any roles or dances that you would love to perform that you haven't yet?
Trusnovec: No, other than the ones he hasn't created yet. I'm looking forward to him making more roles. Just keep me dancing, keep me as busy as possible!
Contributor
Susan Yung
Susan Yung is a New York-based culture writer.