Neue Galerie, New York July 26 – September 17, 2007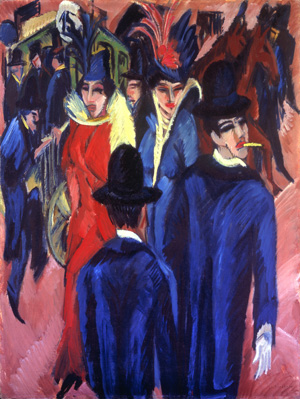 Few art museums have the luxury of acquiring masterpieces one by one and then mounting an exhibition with an accompanying catalogue for each artwork, unless you are the Upper East Side's Neue Galerie of Austrian and German Modern Art.
The Neue Galerie's latest major acquisition, bought at auction for an impressive $38 million, is by German Expressionist demigod, Ernst Ludwig Kirchner. "Berlin Street Scene" (1913-14), one of his iconic "Street Scene" series, nails the bipolar mood of pre-WWII German society—its exuberance and anxiety—as well as its obsession with sex, class and race. Kirchner, along with dozens of other modernists who found inspiration in non-European sources, was categorized as a practitioner of Degenerate Art, yet many of his works survived the Nazi inferno.
Licked with bloody vermilion, icy cobalt and plaintive rose, "Berlin Street Scene" hangs on the Neue's third floor against a lime green wall that tries too hard to echo the hue of the carriage tucked deep inside the painting. This jarring combination succeeds only in muting the canvas's vigorous brushwork and strong colors, rendering the work staid and traditional, the antithesis of the objectives of Kirchner's Die Brücke group, a movement that later morphed into Expressionism.
If the painting's backdrop muffles its music, its placement at the end of two walls filled with portraits and drawings by other Berlin artists of the era is almost criminal. The portraits and minor works don't illuminate any part of "Berlin Street Scene" or the overarching movement it aligned itself with; they shortchange us with a context that is both contrived and flimsy. Perhaps photographs, major Expressionist paintings or other Kirchner paintings would've served the exhibit better.
Unlike the wonderfully orchestrated arrival of Gustav Klimt's "Adele Bloch Bauer I" (1907), which was accompanied by works from the same Viennese collection, this exhibit does a disservice to Kirchner's work by failing to provide visual reference points that explain the painter's unique vision that made him such a figurehead of Expressionism. Unlike Klimt, whose art never proved terribly influential for other artists, Kirchner's influence continues to crop up decades later in artists across national and generational lines, including Georg Baselitz, Jean-Michel Basquiat, and Frank Auerbach, whose work would be unimaginable without Kirchner's gestural experiments.
"Berlin Street Scene" utilizes the lessons of "primitivism" and assimilates them into something Kirchner once described as "the symphony of the great city." His subjects are two Berlin nightclub dancers, Erna and Gerda Schilling, both of whom are depicted in the center of the canvas, their florid dress marking them as sex trade workers fishing for clients. There is disagreement about the identity of the two large male figures in the foreground, but I subscribe to the suggestion that both portray Kirchner himself.
If the artist has in fact painted himself in the center and then again on the right, in what feels like a few moments later—the effect resembles time-lapse imagery. It is as if the artist, trapped inside the canvas, is turning away from his street symphony towards the viewer, but his ambiguous expression could be a plea for refuge or a sign of Brechtian contempt. His angular features, blackened eyes and scarlet lips mimic the women's—a painterly gesture recalling that the solicitation of prostitutes during the Weimar period was done through direct eye contact—is he attempting, instead, to solicit the viewer?
The emotional honesty of "Berlin Street Scene" is shockingly seductive. If its bustling energy and horizonless cityscape feel familiar to New Yorkers, so does its closed world of glances, advances, and elusive meanings. Issues of gay liberation, women's equality, hate crimes, culture wars, self-interested political elites and social stratification were as much on the minds of Weimar Germans as they are on ours today. Kirchner's sharp strokes and astringent colors harbingered the jagged edges of a culture that, in retrospect, was already on the verge of tearing itself apart.
Contributor
Hrag Vartanian
Hrag Vartanian is a writer, critic, and designer. He lives in Brooklyn, NY.