Film
DVD Culture
Les Enfants Terribles (1950)
Dir. Jean Pierre Melville, Criterion Collection, 2007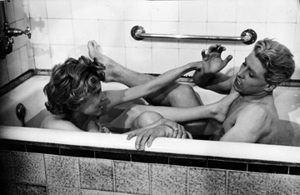 Realism and fantasy collide in Les Enfants Terribles, the 1950 collaboration between celebrated directors Jean Cocteau and Jean Pierre Melville. Cocteau adapted the film from his successful 1929 novel which he wrote in a week-long haze of opium withdrawal. He commissioned Jean-Pierre Melville to direct after seeing Melville's directorial debut, La Silence de La Mer. They're an unlikely pair. Cocteau was known in literary circles as the "frivolous prince" for his willowy line drawings, poetry, and romantic, navel-gazing films featuring a high beef-cake factor. Melville became famous for his war pictures and hard-boiled Zen noirs.
The result is like Bertolucci's The Dreamers with no sex. Equal parts Romeo and Juliet and Sunset Boulevard, with a dash of Cocteau's roguish melancholia thrown in. The lush camera work and cornucopia of quotations from other films is thoroughly proto-New Wave. It's no surprise that Bertolucci's vampirish send-up to the genre borrowed so heavily from the film. What's surprising is how boring Enfants (like Dreamers ) can be.
Les Enfants Terribles is the story of Paul (Edouard Dermithe) and Elisabeth (Nicole Stéphane), a brother and sister who retreat into a private fantasy world after Paul is struck in the chest with a snow-ball. Paul's weak heart requires constant supervision and Elisabeth willingly plays the role of psycho-sadistic nurse. They spend most of their time in their bedroom awash in old books, magazines, night creams and cray-fish. When their hermetic circle expands to include Gerard and Agathe—two hopelessly sweet, bourgeois saps—Elisabeth happily extends her passive-aggressive needling to them as well.
Melville and Cocteau have different agendas, so its difficult to imagine them collaborating. The meaning of a Cocteau film is usually generated through flights of fancy. The result is either poetically moving or downright silly. The magic and perversity of Cocteau's book seems cartoonish when subjected to Melville's realism. In Melville's defense, the screenplay so thoroughly obscures the book's meaning that it's surprising the author adapted it himself. The fantastical element so essential to feeling the story is consistently present only in Cocteau's lilting narration, and Melville's astute choice of Bach and Vivaldi for the score.
In some places, however, the marriage succeeds. A dreamlike, impressionistic snowball fight with achingly erotic undertones opens the film. Henri Decaë, Melville's long-time cinematographer, inventively employs unorthodox camera angles and close-ups. Elisabeth pulls the audience into the childrens' claustrophobic universe by complaining to the camera; she pre-dates Anna Karina and Jean-Paul Belmondo's similar ploy for audience sympathy in Pierrot Le Fou by fifteen years. The performances gain momentum as the story progresses. By the end of the film Elisabeth's controlling mania has reached Norma Desmondesque fever-pitch.
This Criterion release has a load of special features including interviews with actress Nicole Stéphane and other crew members and a short film about Cocteau and Melville's collaboration. Despite it's imperfections, Les Enfants Terribles is a worthy rental for Cocteau lovers and serious students of the Nouvelle Vague.
Contributor
Jesi Khadivi
Jesi Khadivi writes on art, dance and film. She lives in Berlin.