Kent Gallery September 6–October 20, 2007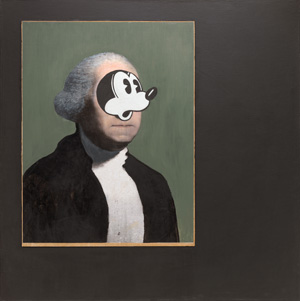 "Are those rock and roll dreams in your eyes?" —Bob Dylan
The cartoon-serious urgency of titles such as "I Got a Job to Do" and "You Would Not Listen When I Told You," are a welcome invitation into the world of a radically fresh 73-year-old painter, who is not as well-known as he should be on the East Coast. The artist is Llyn Foulkes, a Zelig-like character who has continually reinvented himself and his artistic practice over the course of five decades.
Foulkes is a beloved troubadour survivor of the 1960s L.A. Pop Art scene and a close affiliate of artists such as John Baldessari, Ed Ruscha, Wallace Berman and Robert Irwin. After dropping out of Chouinard Art Institute (later known as CalArts) in 1959, Foulkes had his first solo exhibition at Ferus Gallery in 1961, a year before Andy Warhol's Soup Cans debuted there, and continued to show extensively in Europe and America throughout the decade. A popular early hit was "Cow" (1963), an Ab-Ex meets folk-art painting of a cow that preceded Warhol's flashy bovine wallpaper by three years. The show at Kent Gallery brings together twenty mixed-media paintings on wood panels created between 2003 and 2007. In line with his 1960s work, Foulkes sidesteps Pop Art's polished image reproduction in order to lend new relevancy to the formal tropes of Dada collage and assemblage art.
The paintings range from the modest scale of a household altarpiece to the expansiveness of a rugged bulletin board, complete with aging postcards, line drawings, and found photographs. One of the more shocking revelations of the show is the potency that Foulkes restores to a primal symbol of corporate culture: Mickey Mouse. In "Mr President" (2006) a portrait of George Washington is defaced by a collaged cut-out of an earless, mouth agape Mickey Mouse. The pairing of two iconic images doesn't yield to an easy Pop Art interpretation. Instead it is an odd combination of jubilation and terror—junk store brashness mixed with a technical virtuosity and draftsmanship that belies a profound commitment to the visual language of painted images. The illusionist wooden frame around the image of Washington is a repeated motif in many of the paintings. Craftily formatted panels embedded into larger panels, further heighten the dizzying spatial ambiguity of the image plane.
In "Self-Portrait as Superman" and "Dali and Me," Foulkes seamlessly collages painted renditions of comic-book graphics with gory heads-in-motion, reminiscent of Francis Bacon's portraits. Many of the panels are snuggly framed by an L-shape of wood, sometimes looking like a window frame or a found piece of studio scrap, repurposed as a framing device. The artist's own creative history is re-visited in "Five Postcards" (2006), a partially framed space featuring painted postcard renditions of boulders, a winking reference to Foulkes's late-1960's rock paintings. The formal ingenuity of the collages call to mind Saul Steinberg's wood relief replicas of an artist's worktable, bringing the tools and history of studio practice to bear on the art object as a vital component of its construction.
Foulkes belongs in the company of 1960s iconoclasts who complemented their visual art practice with equally innovative experiments in other media. Like Rosalyn Drexler and Manny Farber, artists who respectively moonlighted as a playwright and a film critic, Foulkes has remained a virtuosic performer, defying categorization at all costs. His various musical endeavors range from the 1970's group the Rubber Band, to his current incarnation as a one-man "sound machine" band. (A video monitor in the corner of the gallery shows the artist in an ecstatic performance at The Church of Art, his personal venue at the Brewery, a collection of artists' lofts in downtown L.A.) Foulkes's love of "outsider" Americana culture, typified by the 1940's novelty bandleader Spike Jones, finds its visual counterpart in the postcard-kitsch of Route 66 memorabilia and other forgotten signposts along the highway of our country's lost vernacular culture. For our sake, and for the sake of an aimless, schizophrenic art scene, let's hope that he stays en route for a long time to come.