Dimensions in Music: The New Operas of Evan Hause
There's a juncture in Evan Hause's new opera, Man: Biology of a Fall, when Army chemist Frank Olson confronts the popular magician John Mullholland. These characters are based on historical figures: Olson served in the Special Operations Division at Fort Detrick, Maryland, around the time of the Korean War, participating in biological weapons research including the infamous MKULTRA mind-control experiments. As Hause said in an interview, Mulholland "was famous in his day for his books and pamphlets, and employed by the CIA to teach sleight-of-hand tricks so they could slip LSD into people's drinks." In their scene, Olson (played by tenor Steven Ebel) acknowledges having read the magician's tracts, and the latter (countertenor Jeffrey Mandelbaum) replies: "Maybe you'll learn something else today." "Like why you're working for the CIA," Olson counters. Mulholland retorts with soaring embellishments, "Aren't you?" The angry, anxious doctor has to acknowledge that he doesn't know.
Such devious crosscurrents and thorny power stratigraphies pervade Hause's work with librettist Gary Heidt. In 2000, they had FM inventor Edwin Armstrong tangle with RCA exec David Sarnoff—who was also a brigadier general of psychological warfare, and a wily and ruthless capitalist—and then shunted Philo Farnsworth, who originated TV, into the tale they named The Birth and Theft of Television. With 2004's Nightingale: The Last Days of James Forrestal, their protagonist was the first U.S. secretary of defense, whose desire to withdraw from the highest echelon of Cold War influence drew the ire and retaliation of Truman's administration. Man premiered at the Kumble Theater at Long Island University at the beginning of this month. It concludes Hause and Heidt's Defenstration Trilogy, a title that alludes to Frank Olson's being found on the Seventh Avenue sidewalk below his hotel window one night in 1953, and to Forrestal's fall from his sixteenth-floor room at Bethesda's Naval Hospital, and to Edwin Armstrong's final stand at his apartment window, which opens and concludes Birth and Theft.
Opera's been crunching mere mortals up against mythic, ominous forces since Poppea's coronation, but Hause's music eschews the genre's penchant for poetic or metaphysical resonance in favor of pocket ensembles and inventive clarity. His scores unfold as shape-shifting tapestries facilitating the audience's consideration of the topics at hand. This limber musical approach provides probing incision beneath Heidt's inexorable, frequently sarcastic confrontations and arias. Early in Birth and Theft, Armstrong and Farnsworth compare the thwarting of their inventions, which they hope can benefit people, while horns slur and threaten—then gears shift fluidly to song-and-dance jollity, and they sing about lining up "rows and rows of electrons." Powerful operatic crises arise as well. In Forrestal's duet with his wife, whom he committed to an asylum because of her dependency on religion and alcohol, spare strings and a harsh flute give way to pointillist piano worthy of the Second Viennese School. And a protracted, chilling duet with Harry Truman is joined by an elevated chorus to unveil a clashing overview of realpolitik and Masonic intent. These authoritarian tectonics are traced by chilling winds, where just moments before the president's bottle of Jack Daniel's had brought his evicted secretary a bit of respite, along with cheery voicings from the seven-instrument orchestra.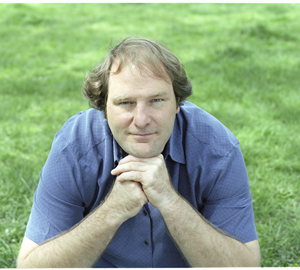 In a phone interview, Hause spoke of scoring Heidt's librettos with everything from highly dramatic classical music to hybrids of eclectic sound. One scene in Man transpires in George White's Greenwich Village digs, where White was renowned for mixing adventuresome high-lifers and neighborhood hookers—as well as for dosing unsuspecting pickups and then watching them through a one-way mirror. "For White's den of iniquity," Hause said, "I wanted some hot third-stream jazz going, so I did a hybrid of what I wanted dramatically, working more instinctually, intuitively. Another example is a song we call the 'Funny Monkey,' where there's a fleeting reference to 'Taps.'"
Hause has a great deal of musical material to draw on, having moved here in 1999 after teaching at Pittsburgh State University in Kansas. (For a while he lived on the same block as Heidt, a writer who was station manager at Columbia's FM station, WKCR.) Since his relocation, the Albany Symphony has premiered his U.S. Lowball and Trumpet Concerto; his chamber music includes Coil, a 2000 piece for piano and percussion that butts timbres and rhythms achieved with the hammers of the former and the mallets of the latter, leaving them jagged in some passages, while achieving suspended unisons elsewhere. For one of Heidt's Love Sphere events, the theme was psy-ops—psychological operations—and Heidt asked Hause if he'd do some music for one of his performance pieces. "I'd written vocal music, oratorio, and rock songs, in addition to orchestral music," the composer said, and the result grew into Birth and Theft. "When that was finished, Gary immediately had this Forrestal libretto and we knew that would be an opera. As we were working on that, he said 'I've been thinking about Frank Olson,' and my wife suggested we name it the Defenestration Trilogy."
Olson, in his job with the Army, had been told of tortures of Nazi prisoners and clandestine experiments in Korea. "At the beginning of the opera," Hause said, "he expresses doubts to the British researcher Sargeant, who was sort of the Timothy Leary of Britain and who wrote a book on mind control. Sargeant gets on the phone to a mysterious presence, and Olson's escapade begins. The final scene of the first act is the largest; we call it the Lodge Scene, for the place where they do LSD dosing, and it turns into a Walpurgisnacht, with Olson getting dosed and wanting out, but the Army won't let him out." By the time Gottlieb, the mastermind, appears and announces that he has a solution, "the sand," as Hause put it, "is running out of the hourglass."
The panels of the trilogy conclude with a mounting sense of "Did he jump, or was he pushed?" Armstrong was driven to suicide, in large part due to his FM patent being blocked for decades by Sarnoff and RCA. Forrestal's demise was immediately ruled a suicide, though as the composer said, "theories abound." Olson's colleagues had argued over the cause of the Army chemist's death, and the family began investigating the remaining evidence. "It was Rumsfeld and Cheney who drew up the statement that the family signed in 1975. Cheney said, 'We can't have them starting up suits,' and $750,000 was offered once they signed away the right to prosecute, with Cheney advising Rumsfeld, who passed it on to [then President] Ford. In the 1990s, [Forrestal's] son did a lot of research, including a 1994 exhumation that revealed a single contusion to the head—and the examiner found the body wasn't too torn up by the fall and from smashing the glass window, though they'd been told before the burial that the body couldn't be viewed for that reason." Back in the 1950s, Olson's case had made it into the training manual for the Massad, Hause said, as the textbook case for concluding a murder: a blow to the head, then thrown out the window. "After rehearsal last night, I went for the first time to the hotel room in the Hotel Pennsylvania [then the New York Statler Hotel], Room 1018A, and went immediately to the window, put my head on it and looked down at the Seventh Avenue sidewalk. The fall didn't kill him immediately—the watchman who found him down there said he died still trying to say something."
At the previous evening's rehearsal in the Kumble's compact auditorium, Hause had sat at the piano while director Jyana Gregory and the singers sketched in staging for the scene in which Olson, one of his sympathetic scientist colleagues, and Lashbrook, their superior and a Gottlieb crony, visit the magician Mulholland. When fully staged, the scene would include levitation and smoke and mirrors, but for now Hause had his pencil out, and before the musical run-through resumed, he told one of his singers "This'll be the last time you'll sing those notes—I just wrote you some higher ones, up in your register." And when tenor Steven Ebel, as Olson, lay back on two chairs for an earlier scene when he's found sleeping off a binge, one of his colleagues laughed, "You're drunk, but you sing the right notes." Hause led the cast through patterns of emphasis, saying: "In this gang grouping, just think of one of those cartoon fights where a fist suddenly comes out. Certain words will work like that fist: 'I didn't tell YOU that,'" the composer voiced to illustrate. The wonder of his works, along with a certain dramatic release in viewing the machinations of a supposedly greater generation, is how his fluent lines and versatile musical underpinnings help the trilogy's probing dramas to resound.
Man: Biology of a Fall premiers at LIU's Kumble Theater for the Performing Arts, October 4–7